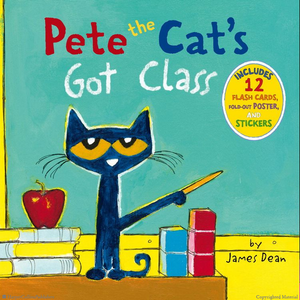 Pete the Cat's Got Class Book
Regular price $10.99 Sale
Go back to school with Pete the Cat! This fun storybook comes with a poster, stickers, and a set of 20 punch-out flash cards that teach counting, adding, and subtracting.
When Pete's friend Tom is having a tough time with math, our favorite blue cat steps in to help him out. With good friends, fun learning tools, and a little extra help, it all adds up. Pete the Cat knows you can't hate math—you just don't love it yet.
New York Times bestselling author and artist James Dean brings us a story about the classiest cat around—Pete! This time Pete teaches us how to add and subtract our way to loving math.
Pete the Cat's Got Class is a winner at home or in the classroom. The poster, stickers, and 20 punch-out flash cards add to the value.