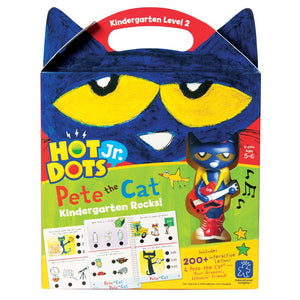 Hot Dots®Jr. Pete the Cat: Kindergarten Rocks!
Regular price $27.99 Sale
The Big Idea
Get ready: Pete the Cat(R) is going to get kids rockin' and schoolin' with Kindergarten Rocks!, level 2 of the two all-new Hot Dots(R) Jr. Pete the Cat(R) Kindergarten sets. Inspired by the beloved Pete the Cat(R) children's book series. This set provides 200+ lessons on a variety of subjects such as reading, math, science, social studies, and more! It includes two spiral-bound activity card sets, an all-new Pete the Cat(R)-Your Groovin' Schoolin' Friend pen, reward stickers, and an an award certificate for little learners who are ready to advance to the next level. Perfect for independent learning-simply press the pen on an answer for immediate audio and visual feedback.
Psst...They're Learning!
Promotes rockin', interactive learning and offers ample practice time
Develops early learning skills necessary for school success
Provides confidence-building feedback
Encourages independent, self-paced learning
Cut to the Chase
Includes 2 spiral-bound interactive card sets with 200+ activities, a Hot Dots(R) Jr. Pete the Cat(R)-Your Groovin' Schoolin' Friend pen, an award certificate, and reward stickers
Helps develop preschool skills in reading, math, science, social studies, and more
Compatible with any Hot Dots or Hot Dots Jr. card sets or activity sets
Pen requires 2 AAA batteries (not included)